Let's Hack!
---
NANOG 84 Hackathon
Friday, February 4, 2022 - Intro/Tutorial/Team Formation
Saturday + Sunday, February 12-13, 2022 - Hacking
An essential part of NANOG conferences, our hackathons are designed to be both fun and engaging, as well as a platform to build community and foster greater networking and programming knowledge. NANOG Hackathons are hands-on, and educational at their core — directly supporting the most critical aspects of our mission. All levels are welcome to participate, and as always, registration is free.
A hybrid format
One week before the hackathon (Friday, February 4th) we will hold the hackathon welcome, introduction, infrastructure tutorial, idea-pitching, and team-forming session over Zoom; this session will be recorded. Saturday, February 12th will be the start of the hackathon; this day is all virtual regardless of whether or not you are at the conference venue. Sunday will be a true hybrid day with people continuing to work virtually as well as dedicated facilities (workspace, wifi, etc) for those at the conference venue.
The Hackathon starts with a brief welcome and introduction, tutorial, and team formation on Friday, February 4, at 12:00pm CST. Hacking begins at 1:00pm CST, Saturday, February 12. The hacking ends at 4:00pm CST, Sunday, February 13, when the team presentations will begin.The Hackathon will conclude around 5:00pm CST Sunday, February 13. We have dedicated Support/Help Hours on Saturday from 1:00pm - 4:00pm CST virtually via Zoom and again on Sunday from 12:00pm - 5:00pm CST in a hybrid format.
---
Hackathon In-Kind Sponsors
---
---
Theme: Giving Back to Open Source
The NANOG 84 Hackathon will focus on the theme of Giving Back to Open Source.
During this Hackathon, we've invited the maintainers of several open source projects to propose fixes and features for those products that we'll invite teams to work on. Project maintainers will provide problem statements and objectives, and work with teams collaboratively to help teams understand the respective code bases and help troubleshoot issues.
Projects/maintainers participating in this Hackathon include:
NAPALM - Mircea Ulinic
containerlab - Roman Dodin & Karim Radhouani
gnmic - Roman Dodin & Karim Radhouani
GNMI-Gateway - Colin McIntosh
scrapli, scrapligo, and boxen - Carl Montanari
vaping - Matt Griswold
PeeringDB - Leo Vegoda
Utilizing collaboration services from Zoom and Slack along with lab infrastructure consisting of virtualized devices from several vendors, hackathon participants can work individually, or self-organize into teams to work on software passion projects.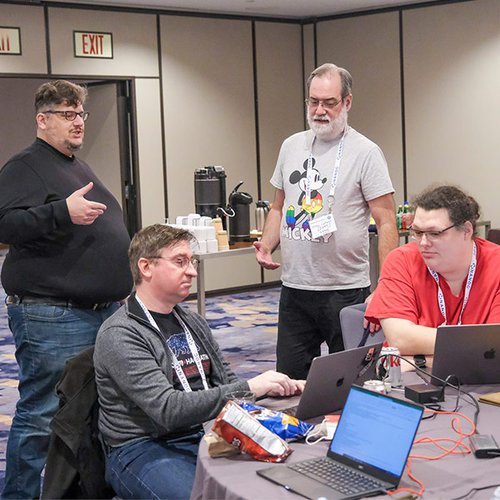 Topology
For this hackathon, we will have virtual routers running inside AWS hosts via containerlab. A mix of containerized routers and end hosts will be available, or you can also bring your own container images. Engineers who don't wish to hack but would like to use the lab infrastructure to learn about networking technologies are also welcome. Whatever your skill and experience is, there will be something to work and learn with!
Work independently, or with the help of a mentor
Besides providing you with some general project ideas, if you're still having trouble getting started, we will also provide documentation on some popular software packages. Hack mentorship will also be provided throughout both days of the event.
Collaborate via Slack
Prior to the hackathon, you'll receive an invitation to our Slack workspace so you can start collaborating right away. All who participate will have an opportunity to present their work (presentations will end around 6:00pm on Sunday). Please take a moment to review the Hackathon Terms and Conditions before attending the hack.If you'd like to participate, but aren't sure where to start, please reach out to us: ha[email protected]. We have lots of topic ideas to share.
Support Documents
The following documents provide both general and specific information for this Hackathon which you may find useful.
Introduction Slide Deck (link to be provided in NANOG Hackathon Slack)
NANOG 84 Hackathon Guide (link to be provided in NANOG Hackathon Slack)
See you in February! Until then, happy hacking.