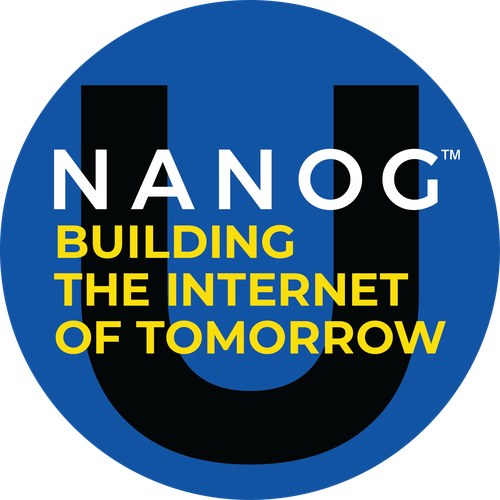 NANOG U 2022 Tour 
From DDoS attacks to mitigation and network optimization, NANOG U is a two-day in-person event that will provide local tech engineering students with a competitive edge.
Students will have the opportunity to connect and engage with industry leaders - while learning the latest Internet technologies!
The City of Montgomery will be hosting the Fall 2022 NANOG U Tour. Coffee, a continental breakfast + lunch will be provided. 
Where: Montgomery Multiplex at Cramton Bowl in Montgomery, AL. 
When: 19-20 September 2022 – 9:00a to 4:30p
Hotel Recommendation: Montgomery Renaissance
---
---
Fall 2022 NANOG U Tour Invited Schools: 
Christian University in AL – Faulkner University
Montgomery Campus | Troy University
AUM – Top Ranked University in Montgomery, Alabama
Alabama State University (alasu.edu)
Trenholm State Community College | Alabama Community College System
Central Alabama Community College | Alabama Community Colleges (cacc.edu)
---
Agenda
Monday 19 September
Morning - Career Part of the Program
Start Time
Agenda Item
Speaker
8:00 AM
Check-In & Breakfast
N/A
9:00 AM
Welcome
Edward McNair, NANOG Executive Director
9:05 AM
Mayor of Montgomery'sVideo Welcome
Steven L. Reed, Mayor of Montgomery
9:10 AM
What is NANOG & How Can It Help You?
Edward McNair, NANOG Executive Director
9:15 AM
How to Get a Job in Tech
Kat Ronay, Microsoft
9:50 AM
BREAK
N/A
10:00 AM
Panel Discussion: Careers in Technology
Moderator: Kat Ronay, Microsoft
Panelists: Alice Munyua, Mozilla
Dekia Blackmon, Netflix
Les Williams, AWS
Manju Gautam, AWS
Aaron Atac, Akamai
Quincy Minor, KAM Technologies
Nathan Pendley, Telstra
10:50 AM
BREAK
N/A
11:00 PM
Connecting the World While Charting Your Career
Nathan Pendley, Telstra
11:30 AM
LUNCH
N/A
Afternoon - Technical Part of the Program
| Start Time | Agenda Item | Speaker |
| --- | --- | --- |
| 12:45 PM | Check-In Attendees | N/A |
| 1:15 PM | Welcome | Edward McNair, NANOG Executive Director |
| 1:20 PM | Mayor of Montgomery'sVideo Welcome | Steven L. Reed, Mayor of Montgomery |
| 1:30 PM | ARIN and the Regional Internet Registry (RIR) System | Jon Worley, ARIN |
| 2:00 PM | Cache Rules Everything Around Me:Content Distribution 101 | Dr. Marc A. Warrior, AWS |
| 2:40 PM | BREAK | N/A |
| 2:50 PM | Intro to DNS | Eddy Winstead, ISC |
| 3:30 PM | The Most Important Piece of Internet InfrastructureYou've Never Heard Of | David Huberman, ICANN |
| 4:00 PM | Closing Reception: Meet & Greet | N/A |
Tuesday 20 September
Morning - Technical Part of the Program
| Start Time | Agenda Item | Speaker |
| --- | --- | --- |
| 8:30 AM | Check In & Breakfast | N/A |
| 9:00 AM | Welcome | Edward McNair, NANOG Executive Director |
| 9:05 AM | Mayor of Montgomery'sVideo Welcome | Steven L. Reed, Mayor of Montgomery |
| 9:10 AM | ARIN and the Regional Internet Registry (RIR) System | Jon Worley, ARIN |
| 9:40 AM | Cache Rules Everything Around Me:Content Distribution 101 | Dr. Marc A. Warrior, AWS |
| 10:20 AM | BREAK | N/A |
| 10:30 AM | Intro to DNS | Eddy Winstead, ISC |
| 11:30 AM | The Most Important Piece of Internet InfrastructureYou've Never Heard Of | David Huberman, ICANN |
| 12:00 PM | LUNCH | N/A |
Afternoon - Career Part of the Program
Start Time
Agenda Item
Speaker
12:30 PM
Check-In Attendees
N/A
1:05 PM
Welcome
Edward McNair, NANOG Executive Director
1:05 PM
Mayor of Montgomery'sVideo Welcome
Steven L. Reed, Mayor of Montgomery
1:10 PM
What is NANOG & How Can It Help You?
Edward McNair, NANOG Executive Director
1:40 PM
How to Get a Job in Tech
Kat Ronay, Microsoft
2:20 PM
BREAK
N/A
2:30 PM
Panel Discussion: Careers in Technology
Moderator: Kat Ronay, Microsoft
Panelists: Dekia Blackmon, Netflix
Les Williams, AWS
Manju Gautam, AWS
Aaron Atac, Akamai
Quincy Minor, KAM Technologies
Nathan Pendley, Telstra
3:30 PM
Connecting the World While Charting Your Career
Nathan Pendley, Telstra
4:00 PM
Closing Reception: Meet & Greet w/Attendees
N/A