Our January 22 NANOG U Webinar featured Eddy Winstead of Internet Systems Consortium, with a talk on DNS Fundamentals.
NANOG U Webinars are 1-3 hours, depending on the format. Registration is free for all, but required to participate. All sessions are conducted at nanog.org. Can't attend the live session? No problem! A recording will be available shortly after the original air date.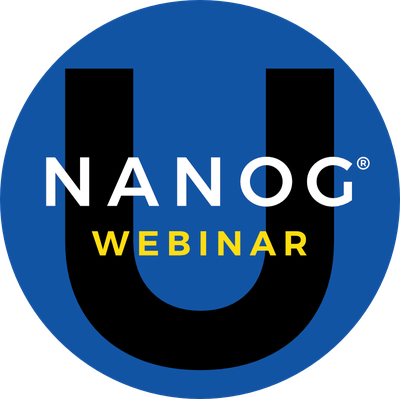 ---
Thank you to our NANOG U Partners
---
DNS Fundamentals
Date + Time: Jan 22, 11am - 1pm PST / 2pm - 4pm EST
Speaker: Eddy Winstead, Internet Systems Consortium (ISC)
Eddy has over 25 years experience in systems and network engineering. In 1996, he joined the North Carolina Research and Education Network (NCREN, formerly CONCERT), where he was the NCREN hostmaster for over a decade. He was a lead member of the team that transitioned all 115 of North Carolina's K12 school districts to NCREN, and also served as NCREN's Designated Member Representative to ARIN. Eddy joined ISC in 2011, providing technical support, configuration audits, and consulting to ISC customers. He has given trainings and lectures around the globe on ISC DHCP and DNS/BIND, and is a frequent attendee and speaker at internationally recognized industry conferences such as NANOG, APRICOT, and LISA.
Agenda: The Domain Name System (DNS) is a distributed database which maps domain names to IP addresses, and a core piece of Internet functionality. We'll take a look at the history of the DNS, the original design, how it works, and how things have changed over the years.
---