NANOG 78 Hackathon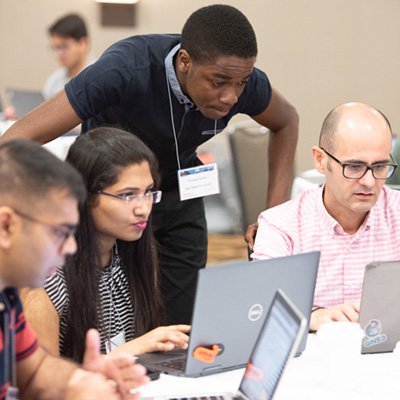 Welcome to the NANOG 78 Hackathon — Sunday, February 9, in San Francisco, CA.
An essential part of NANOG conferences, our hackathons are hands-on, and designed to be both fun and engaging, as well as a platform to build community and foster greater networking knowledge.
NANOG Hackathons are educational at their core, and directly support the most critical aspects of our mission. Held the Sunday before each of our tri-annual meetings, past hackathon themes have included BGP Security, Traffic Engineering, Streaming Telemetry, and Active Monitoring.
Brought to you by NANOG, the focus for the NANOG 78 Hackathon will be team driven. Please take a moment to review the Hackathon Terms and Conditions.
At this hack, participants will have the opportunity to learn in a flexible environment alongside some of the brightest networking minds from the greater NANOG community. The focus for this Hackathon is team driven.
All skill levels are welcome — even beginners — but all are expected to actively participate in the hack. The day will end with presentations of each hack, followed by a vote for the top teams/hacks. The winners will present their hack during the NANOG 78 general session.
About one-two weeks before the hack, you will begin to receive updates and additional information through the [email protected] mail list — feel free to use this list for pitching hack ideas and team recruitment as well. A link to join our Slack channel will also be provided.
As always, registration is free, but space is limited. You do not need to be registered for the conference to participate in the hackathon.