Program Committee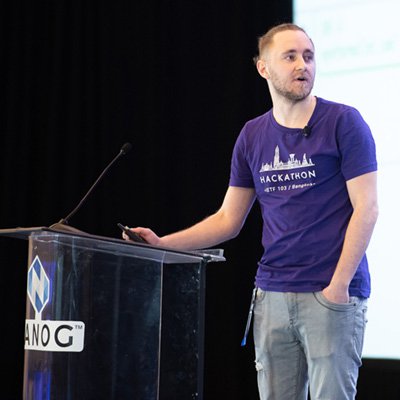 The Program Committee (PC) is responsible for the programs at all NANOG meetings and events. To be eligible to be appointed as a member of the PC, an individual must have attended one NANOG conference within the prior calendar year (12 months), and be a member in good standing.

Broad technical knowledge of Internet operations and familiarity with NANOG meetings are useful attributes. A strong candidate should have experience with NANOG through meeting attendance, meeting presentations, and have been an active member of the NANOG mailing list for a minimum of 3 years. Having constructive opinions and ideas about how NANOG meetings might be improved is of high value. A willingness to recruit presentations for each meeting is required.
---
Support NANOG strategy/goals:
Build unified branding and messaging in regards to NANOG's unique position and community.
Develop mutually rewarding agreements with sponsors and presenters.
Maintain a sense of community and accessibility at conferences and in archived materials.
Develop and deploy a portfolio of programs, events, and resources that meet the broad range of members.
Deliverables:
Responsible for recruiting a minimum of 3 talks per calendar year.
Required to attend 75% of all scheduled PC calls.
Expected to attend 66% of all NANOG meetings over the course of their two-year term.
Serve as an agenda moderator twice over the course of their two-year term.
PC members are expected to volunteer up to 10 hours in the 12 weeks leading up to a meeting, and an additional 24 hours all year round.
Measures of success:
Number of talks recruited per year.
Participation in NANOG meeting PC planning calls.
Solicitation and voting of presentation submissions.
Meeting registration.
Current Program Committee Leadership
Position
Name
Term Ends
Chair
Cat Gurinsky

Apple Inc.

2024
Vice Chair

Stevan Plote




Plote & Associates

2025
Secretary

Chris Woodfield




DriveNets

2024
Program Director

Valerie Wittkop




NANOG

Staff position
Current Program Committee Members
Position
Name
Term Ends
Member

Melchior Aelmans

Juniper

2024
Member
Kam Agahian

Oracle

2025
Member

Aaron Atac

Akamai

2024
Member

Phil Bedard

Cisco

2025
Member

Jason Bothe

Moody's Corporation

2024
Member

Dan Chioreanu

Apple

2025
Member
Kate Gerry

NetActuate, Inc

2024
Member
Mikael Holmberg

Extreme Networks

2025
Member

Marcus Holt

JMF Solutions

2025
Member

Manish Krishnan

Google

2024
Member
John Kristoff

NETSCOUT

2024
Member

Nimrod Levy

AT&T

2025
Member

Marlin Martes

Amazon Web Services

2025
Member

Fearghas McKay

FLEXOPTIX GmbH

2024
Member

Sergey Myasoedov

NetArt Group

2025
Member

Charles Rumford

Deft

2025
Member

James Shank

SpyCloud

2024
Member

Mike Starr

trackd

2024
Member

Adair Thaxton

Internet2

2025
Member
Steve Ulrich

Arista Networks

2024
Member
Michael Voity

University of Vermont

2025
Member

Les Williams

Amazon Web Services

2025