Get involved on a broader scale.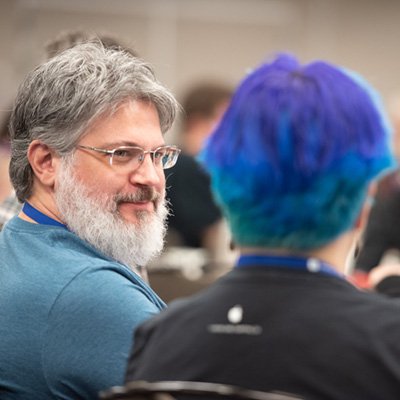 Outreach is one of the most critical facets of NANOG's mission.
We work with universities, affiliate NOGs, and tech communities to bring greater access to our tools, resources, and programming in remote and resource-strapped regions of North America, with a focus on the education and empowerment of students, women, and people of color. Our success in these efforts depends in large part on the support of individuals and organizations who also believe in NANOG's mission.
Give back to your community.
Help ensure future generations will get to enjoy the same benefits you have as a member of NANOG's community. Ways for individuals to get involved:
Vote: Become a member to help shape NANOG's future.

Mentor: The next generation of network engineers.

Teach: The best way to reinforce your knowledge is to teach others.

Present: Share your knowledge and experience with others.

Evaluate: Serve on the Program Committee to help shape the NANOG program.

Sponsor: Support NANOG's education and outreach programs, meetings and events.

Partner with us to empower and inspire.
A NANOG Outreach partnership provides your organization a way to directly support the communities who need access to our tools and resources most, and the opportunity to inspire and connect with the next generation of networking professionals. In turn, we'll publicly recognize your contributions as a partner in meaningful ways that resonate with the communities we serve.
Respond to the unique needs of your community.
Our goal is to celebrate every community's distinct identity, and to better understand their particular challenges and needs. That's why we collaborate directly with individual community ambassadors to plan and deliver targeted programming that resonates with each unique audience.
Let's collaborate.
Contact us to learn more about collaborating with NANOG as a community ambassador.