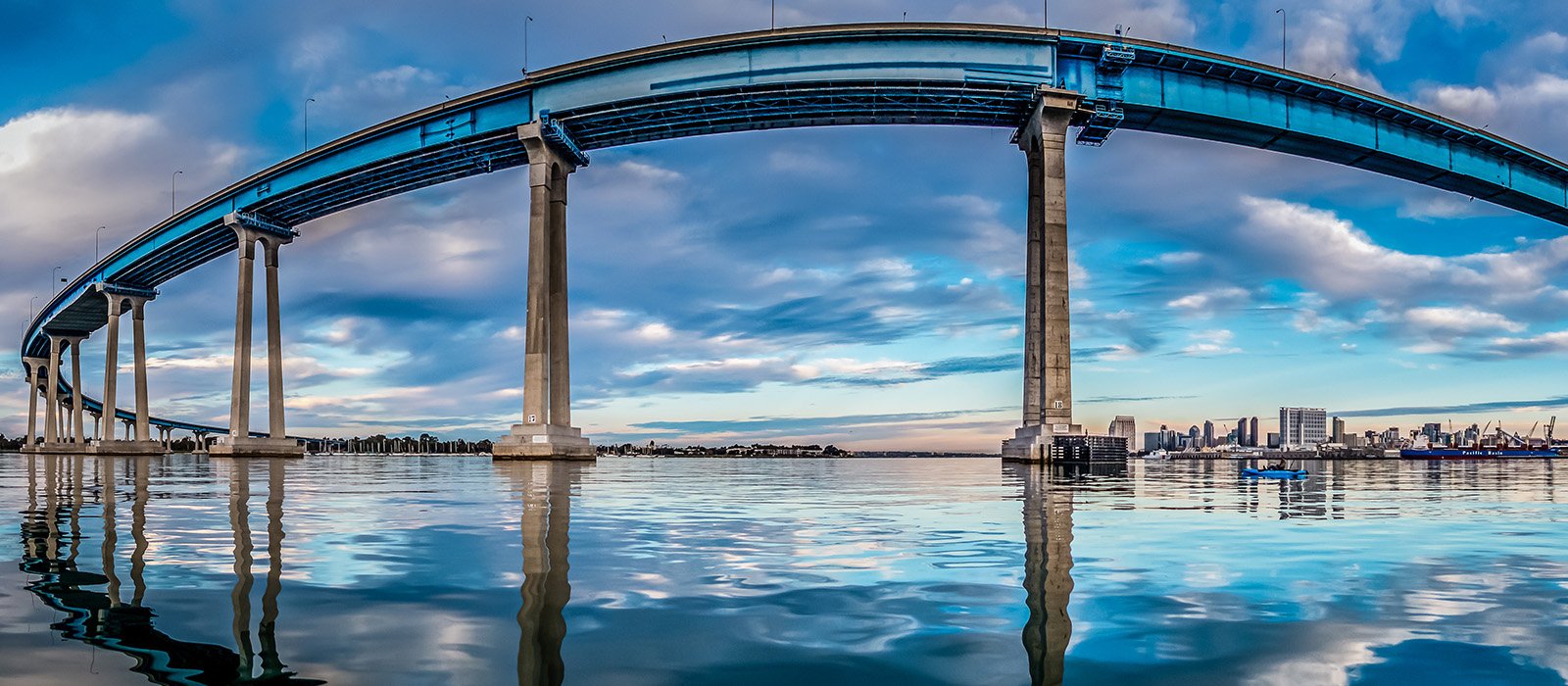 October 30, 2023
Community News
Guest Blog: Exploring NANOG's Most Recent Meeting
Deep Dive into NANOG 89 San Diego with Kentik's Justin Ryburn
by Justin Ryburn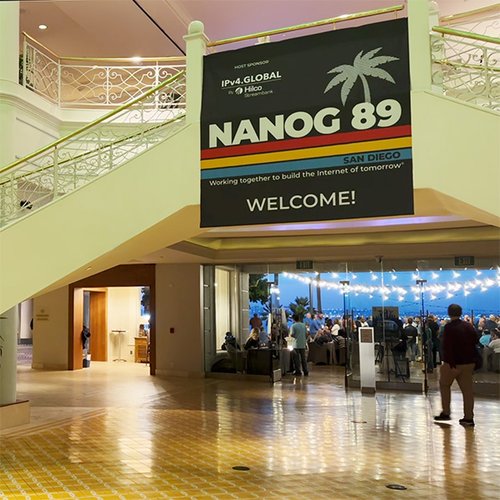 What is NANOG?
NANOG plays a crucial role in the world of internet infrastructure and networking. Three times a year, network engineers, operators, and professionals come together at NANOG conferences to discuss the latest developments, share best practices, and foster collaboration within the industry. NANOG 89 held in San Diego from October 16-18, was no exception. I had the pleasure of attending and wanted to share an in-depth look at NANOG 89, highlighting the key themes, discussions, and takeaways from this influential event.
The Venue
NANOG 89 was hosted at the Loews Coronado Bay Resort, a waterfront resort that provided an ideal setting for networking professionals to gather and exchange knowledge. With outdoor meeting rooms, a good-sized main stage, and excellent amenities, the venue enhanced the conference experience, allowing attendees to focus on the key topics at hand.
Keynote Address
The conference kicked off with a keynote address from John Curran, President and CEO of the American Registry for Internet Numbers (ARIN). John's talk gave a background on the history of Internet governance and how operators have historically participated in this process. He also shared with the community what was is at stake for potential economic, security, and human impact due to Internet governance.
John concluded his talk with a call to action for the operator community to get more involved in discussions when the FCC and other regulators are looking for comments. As John said (paraphrasing mine), if you do not get involved to offer your opinions and expertise, you have no right to complain about the outcome.
General Sessions
NANOG 89 featured a diverse range of sessions covering various topics related to network operations and management. Here are some of the key themes that were explored during the conference:
Network Security and Resilience: Security remains a paramount concern in the networking world. Several sessions focused on strategies for protecting network infrastructure and the Internet from evolving threats. Experts discussed best practices for mitigating DDoS attacks, enhancing DNS security, and safeguarding against BGP hijacks and leaks; increasing the importance of BCP38, RPKI, ASPA and MANRS in preventing route hijacking and IP address spoofing was also emphasized.
Automation and Orchestration: As network infrastructures become more complex, automation and orchestration are critical for managing and optimizing network performance. NANOG 89 featured sessions on network automation tools, best practices, and case studies illustrating how automation can improve network efficiency while reducing operational overhead.
Peering and Interconnection: Effective peering and interconnection are essential for efficient network operations. Presenters at NANOG 89 discussed strategies for establishing and managing peering relationships, negotiating peering agreements, and optimizing interconnection points to enhance network performance and reduce latency.
Cloud and Edge Computing: As cloud computing and edge computing gain prominence, NANOG 89 addressed the challenges and opportunities presented by these technologies. The event explored how cloud and edge services impact network design and operations.
Tutorial: Everything You Always Wanted to Know About Optical Networking – But Were Afraid to Ask
In addition to the main sessions, NANOG 89 featured a tutorial on all things optical presented by Richard Steenbergen. Attendees got to learn the terminology, history, and future technologies related to optical. It started off by discussing about the various types of fiber cabling and their limitations. Other topics covered were optics, light levels, loss, multiplexing, and dispersion. Richard finished up by dispelling some common myths about optical networking.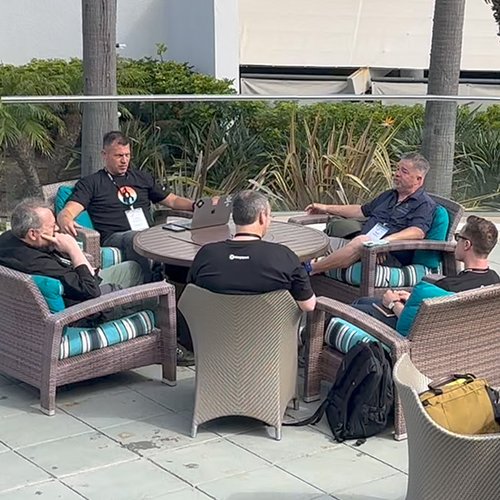 Networking Opportunities
NANOG conferences are renowned for their networking opportunities, often called the hallway track. Attendees had numerous chances to connect with their peers, share experiences, and establish valuable professional relationships. Informal gatherings, evening social events, and the popular Beer N Gear provided a platform for networking and collaboration.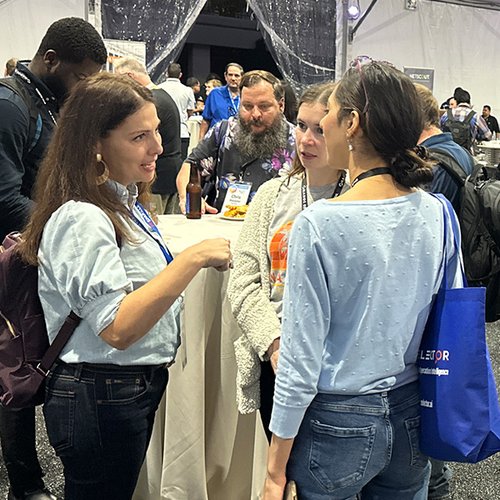 Beer N Gear
One of the highlights of any NANOG meeting is Beer N Gear. This time, Beer N Gear was in a big tent outdoors, which created a neat venue for this type of event. The vendor sponsors get to set up a table and show off their latest gear. The attendees can wander around, talk with the vendors, and network with each other. Of course, there is always an open bar and heavy appetizers to add to the evening. The key takeaway from the event was how far the speeds and feeds for switching have come. Now that my day job is SaaS, I don't follow the latest hardware developments as closely as I used to. Juniper was showing off the new QFX5130, which offers 32x 400GbE ports. It's incredible how much bandwidth can be crammed into 1RU these days.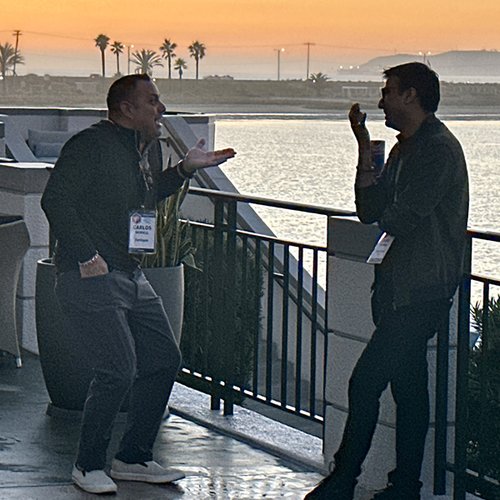 That's A Wrap!
NANOG 89 was a resounding success, bringing together a diverse community of network professionals and experts to discuss the latest trends, best practices, and challenges in network operations. The conference provided a platform for attendees to gain insights, share their experiences, and build valuable connections.
As the networking landscape evolves, events like NANOG 89 are pivotal in fostering collaboration, knowledge sharing, and innovation. The themes explored, the insights gained, and the connections made at NANOG 89 will undoubtedly have a lasting impact on the network operations community, shaping the future of internet infrastructure.
If you missed NANOG 89, don't worry! All slides and main session recordings are posted on their website in the agenda. NANOG conferences are held three times a year, and you can look forward to NANOG 90 Feb 12-14 in Charlotte, NC. In the meantime, stay informed about the latest developments in network operations and consider participating in regional events and online forums to keep your networking knowledge up to date.
---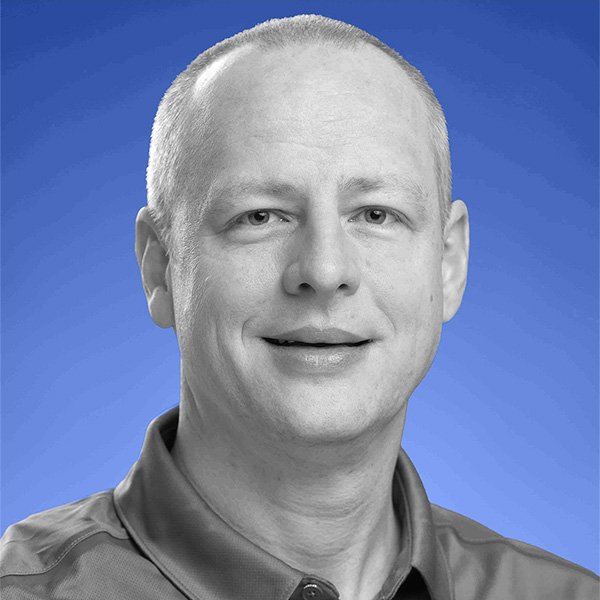 Justin Ryburn
Justin Ryburn is the Field CTO at network observability company Kentik. He has 25 years of experience in network operations, engineering, sales, and marketing with service providers and vendors. Justin contributed content to Cyber Forensics (Auerbach Publishing, 2007) and authored Day One: Deploying BGP FlowSpec (Juniper, 2015). He has also spoken at numerous industry conferences on the topics of network observability and security. Justin currently lives in St. Louis with his wife and two kids. His blog is at ryburn.org and you can follow him on Twitter or LinkedIn.
All Author Posts
Recent Articles