---
Let's Hack!

NANOG 86 Hackathon Past Dates
Friday, 07 Oct 2022 - Intro/Tutorial/Team Formation
Saturday + Sunday, 15-16 Oct 2022 - Hacking
An essential part of NANOG conferences, our Hackathons are designed to be both fun and engaging and to provide a platform that builds community and fosters excellent networking and programming knowledge. NANOG Hackathons are hands-on and educational at their core — directly supporting the most critical aspects of our mission. All levels are welcome to participate, and registration is free.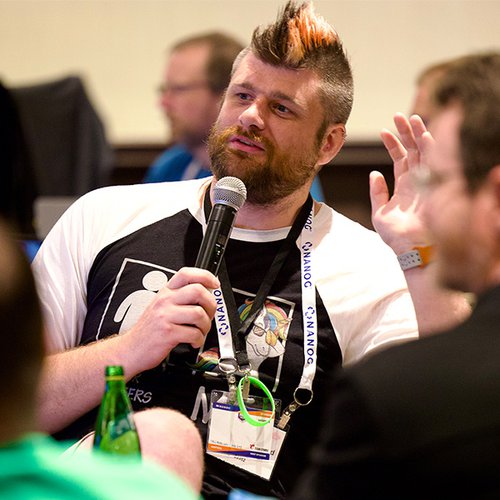 A Hybrid Format
On Friday, 07 Oct, we will hold the Hackathon welcome, introduction, infrastructure tutorial, idea-pitching, and team-forming session over Zoom. This session will be recorded. 
Saturday, 15 Oct, will be the start of the Hackathon; this day will be all virtual, regardless of whether or not you are at the conference venue. Then, Sunday, 16 Oct, will be an actual hybrid day with people continuing to work virtually and dedicated facilities (workspace, wifi, etc.) for those at the conference venue.
The Hackathon starts with a brief welcome, introduction, tutorial, and team formation on Friday, 07 Oct, at 1:00pm Pacific. Hacking begins virtually at 1:00pm Pacific, Saturday, 15 Oct. The hacking ends at 5:00pm Pacific, Sunday, 16 Oct, when the team presentations start. The Hackathon will conclude around 6:00pm Pacific Sunday, 16 Oct. We have dedicated Support/Help Hours on Saturday from 1:00pm - 4:00pm Pacific via Zoom and on Sunday from 12:00pm - 5:00pm Pacific in a hybrid format.
For those attending in person, the Hackathon will be at Loews Hollywood Hotel from 10:00am - 6:00pm Pacific on Sunday, 16 Oct.
Download a flyer and spread the word
---
Hackathon In-Kind Sponsors
---
---
Theme: Packing up your Tool Kit - I
The NANOG 86 Hackathon focused on Packing up your Tool Kit. Got a favorite network tool? Ever get frustrated that it's not packaged up in the distribution of your choice? Spend some time with folks with similar frustrations and (h|p)ack your favorite tools into the distro of your choice!
During this Hackathon, a sample list of network tools and distributions for hackers to sign up to work on was created. Team leaders worked with teams collaboratively to understand the respective code bases and help troubleshoot issues.
Topology
For this Hackathon, virtual routers ran inside AWS hosts via Containerlab. A mix of containerized routers and end hosts were available, along with the ability to bring your container images and topologies. Whatever your skill and experience is, there was something to work and learn with!
Work independently or with the help of a mentor
Besides providing you with some general project ideas, we provided documentation on some popular software packages. Hack mentorship was provided throughout both days of the event.
Collaborate via Slack
Before the Hackathon, a Slack workspace invitation as sent. All participants presented work.