Let's Hack!
---
NANOG 82 Virtual Hackathon
Saturday + Sunday, June 12-13, 2021
An essential part of NANOG conferences, our hackathons are designed to be both fun and engaging, as well as a platform to build community and foster greater networking and programming knowledge. NANOG Hackathons are hands-on, and educational at their core — directly supporting the most critical aspects of our mission. All levels are welcome to participate, and as always, registration is free.
The Hackathon starts at 1:00pm EDT, Saturday, June 12 with a brief welcome and introduction. The hacking ends at 5:00pm EDT, Sunday, June 13, when the team presentations will begin. The Hackathon will conclude around 6:00pm EDT Sunday, June 13.
We have dedicated Support/Help Hours on Saturday from 1:00pm - 4:00pm EDT and again on Sunday from 12:00pm - 5:00pm EDT.
---
Theme: Interacting with APIs
The NANOG 82 Virtual Hackathon will focus on the theme of Interacting with APIs. This covers SSH, REST, NETCONF, and gRPC/gNMI for network devices, online peering databases and internet registries, and network management software. Utilizing collaboration services from Zoom and Slack along with lab infrastructure consisting of virtualized devices from several vendors, hackathon participants can work individually, or self-organize into teams to work on software passion projects.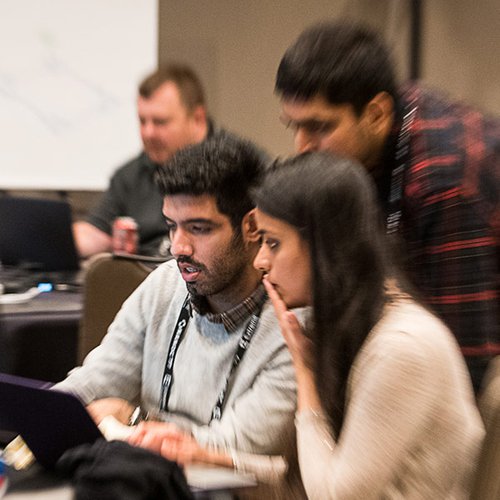 Work independently, or with the help of a mentor
Besides providing you with some general projects ideas, if you're still having trouble getting started, we will also provide documentation on some popular software packages. Hack mentorship will also be provided throughout both days of the event.
Collaborate via Slack
Prior to the hackathon, you'll receive an invitation to our Slack workspace so you can begin collaborating. All who participate will have an opportunity to present their work (presentations will end around 6:00 pm on Sunday). Please take a moment to review the Hackathon Terms and Conditions before attending the hack.
If you'd like to participate, but aren't sure where to start, please reach out to us: [email protected]. We have lots of topic ideas to share.
See you in June! Until then, happy hacking.
---